When I released Subnet Calc Pro, I worked out how many hours work I did on it and therefore how much money I would like to get back from it. Then I decided a price based upon how many sales I thought that I would get. I managed to achieve my money goal after just under 3 months of selling which I thought was extremely quick as I had imagined it would take more like a year to do that!
That is one thing that shocked me, but the other thing which shocked me is that my sales have been steady throughout the whole time I have been selling Subnet Calc Pro, with no sign of stopping yet. There was a spike around the time I released an update to Subnet Calc (the free version) which now has an up-sell page on it to encourage users to upgrade to the paid version. If there is a trend at all with my sales then it's an increasing trend as well, which I am obviously very pleased with!
Here is the graph of my sales from 1st February 2009 until today, 16th May 2009.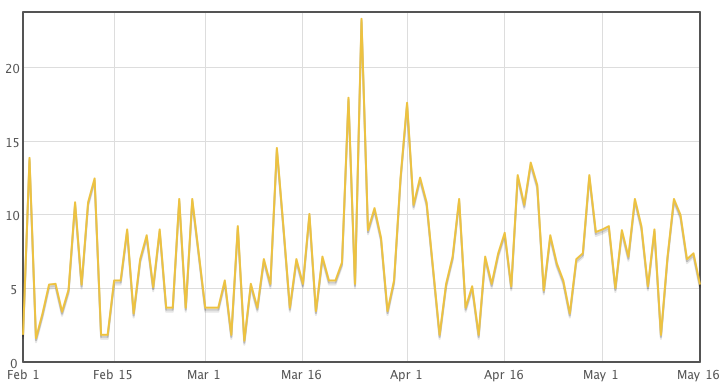 The bottom line is that this has proved to me, and I hope others who read this, that the iPhone platform is a great platform to work with because you can go from never written a line of Objective-C to a full paid application, earning £££/$$$ a month. OK my app won't support me fully, but it certainly is some very handy pocket money which will enable me to continue in my iPhone efforts and hopefully produce even more apps.